Home > From the Brothers Grimm >

Mutzmag: An Appalachian Tale
Preview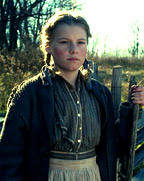 Set deep in the Appalachian mountains around 1920, this American folktale is about a plucky young girl named Mutzmag. In a series of hair-raising and comical adventures, Mutzmag saves her two gullible half-sisters from two backwoods ogres.

Mutzmag's mother dies early in the story, and her two teenaged sisters decide to leave their tumble-down shack and seek their fortunes elsewhere. Mutzmag tags along acting as a servant girl to her abusive siblings. The girls lose their way in the forest and end up at the cabin of a wicked witch and her giant husband who plan to kill the girls. quick-witted Mutzmag saves the day with nothing but a broken pocket-knife and a ball of string.

This exciting story is an Appalachian trickster tale, but with a resourceful heroine instead of a hero. There are some scary scenes in the film that will delight older children, teenagers, and adults.
(53 min., ages 10-adult)

Reviews of Mutzmag: An Appalachian Tale
"The film has a wonderfully spooky atmosphere, beautifully photographed scenes, fine acting, and a few truly scary scenes."
-- Anne Taubeneck, Chicago Sun-Times, October 9, 1992


"Although I do not count myself a fan of Stephen King's horror novels, I did enjoy his non-fiction exploration of horror Danse Macabre (1981). At one point, King says that reading and watching the scary stuff is like "lifting a trapdoor to the civilized forebrain and throwing a basket of raw meat to the hungry alligators swimming around in the subterranean river beneath." He goes on to say that love and other more civilized emotions are wonderful "as long as you keep the gators fed." ...Mutzmag...will fatten a couple gators and possibly alarm a few devotees of the Care Bears/Barney the Dinosaur line of children's films...Mutzmag is a beautifully-filmed fairy tale in the traditional sense: things turn out okay in the end, but there's hell to pay along the way. Too intense for younger children, older kids and early teens will love this. Highly recommended."
Editor's Choice [Note: There's also an excellent "Behind the Scenes" short documentary included on the video which looks at the making of Mutzmag, interviews filmmaker Tom Davenport, and shows clips from other Davenport Films productions.]
-- Randy Pitman, Publisher and Editor,Video Librarian, July-August 1993. [Mr. Pitman may be contacted at Video Librarian, 8705 Honeycomb Ct. NW, Seabeck, WA 98380 (800) 692-2270, email: vidlib@videolibrarian.com]

Awards for Mutzmag: An Appalachian Folktale include:

The Parent's Choice -- Gold Seal Award
New England Childrens' Film Video Festival -- Best Feature
American Library Association -- Selected Film for Young Adults
Chicago International Childrens' Film Festival -- Best of Festival
International Film Festival of New York -- Jurors Award
National Educational Film Festival -- Golden Apple Award
North Carolina International Film Festival -- Blue Ribbon
Philadelphia International Film Festival -- Blue Ribbon
Sinking Creek Film Festival -- Jurors Award
Houston International Film Festival -- Red Ribbon
CINE -- Golden Eagle Award
Washington DC Film Festival -- Rosebud Best Dramatic Film